This is my variation of the moringa curry. There are many different variations out there, you can play with the ingredients and spices to come up with something new.
I was able to make this dish with everything that I harvested from the garden, only item that I did not have on hand was ginger, which I am working to grow. I have much better luck with growing turmeric so far.
Please download my Moringa Tomato Curry PDF recipe here, or you can see the recipe at the end of this post here.
Here's the recipe and step by step photos of my process. Some of the vegetables used here are what I had that day from the garden, please feel free to substitute with what you prefer.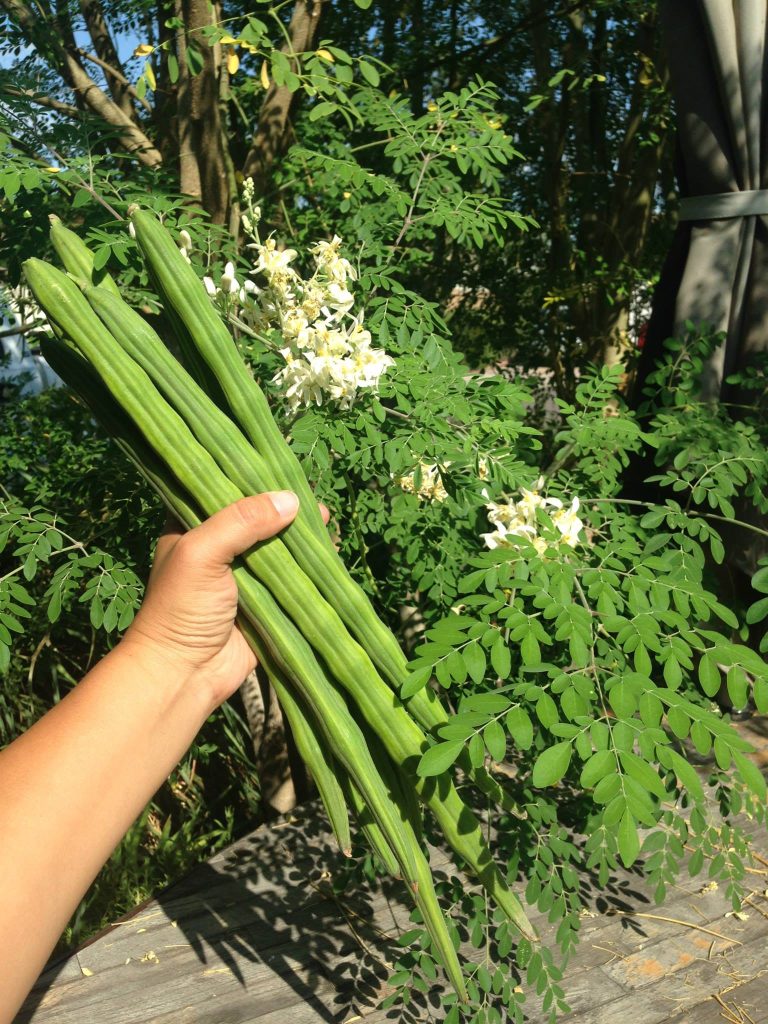 Fat and full moringa seed pods for curry! You want to harvest the pods when they are the thickness of your thumb.
Okinawan/Hawaiian Purple sweet potato as a substitue for the normal potato for our Moringa curry.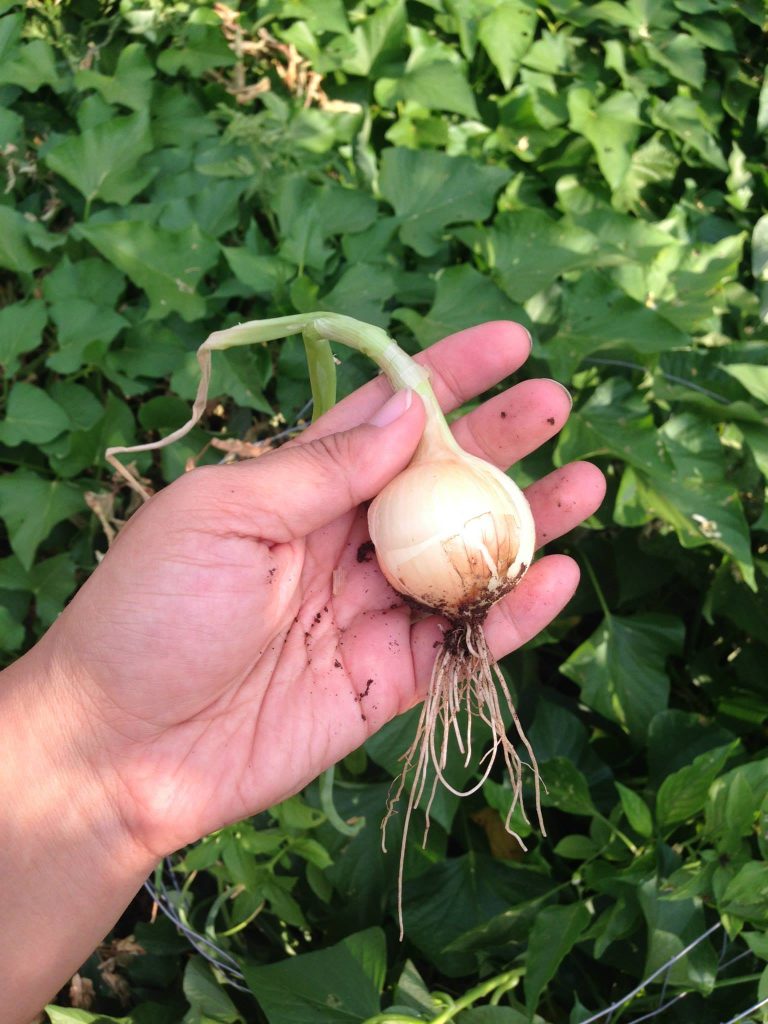 Candy Onion, also for the moringa curry.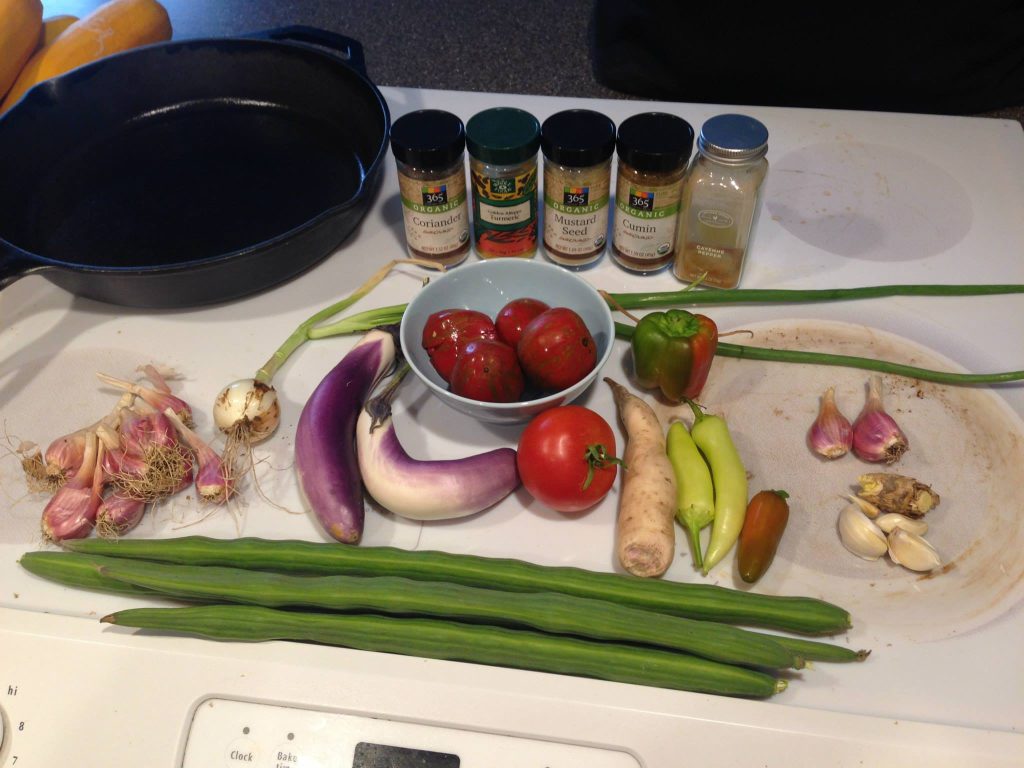 All the main ingredients has been gathered. We are using lots of O'itoi onions as substitute for the regular onion, since my goal is to use almost 100% ingredients from the Epic Yard Farm garden.
Items harvested from our garden for this recipe: I'itoi Onions, Candy Onion, Ping Tung eggplants, Black and Brown Boar tomatoes, Husky Red tomato, Okinawan/Hawaiian Purple sweet potato, California Wonder bell pepper, Banana Supreme peppers, Jalapeño pepper, garlic, and Moringa seed pods.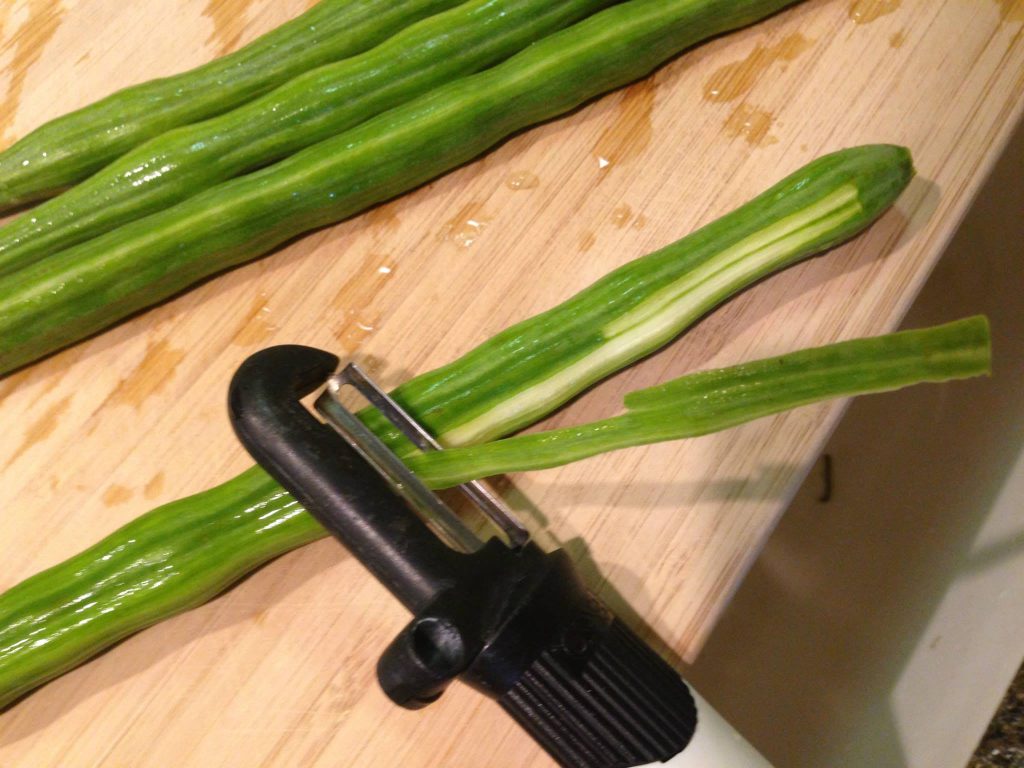 First, clean your moringa seed pods really well, then lightly peel some of the skin off, that way the flavor of the curry can be easily absorbed by the moringa seeds and flesh.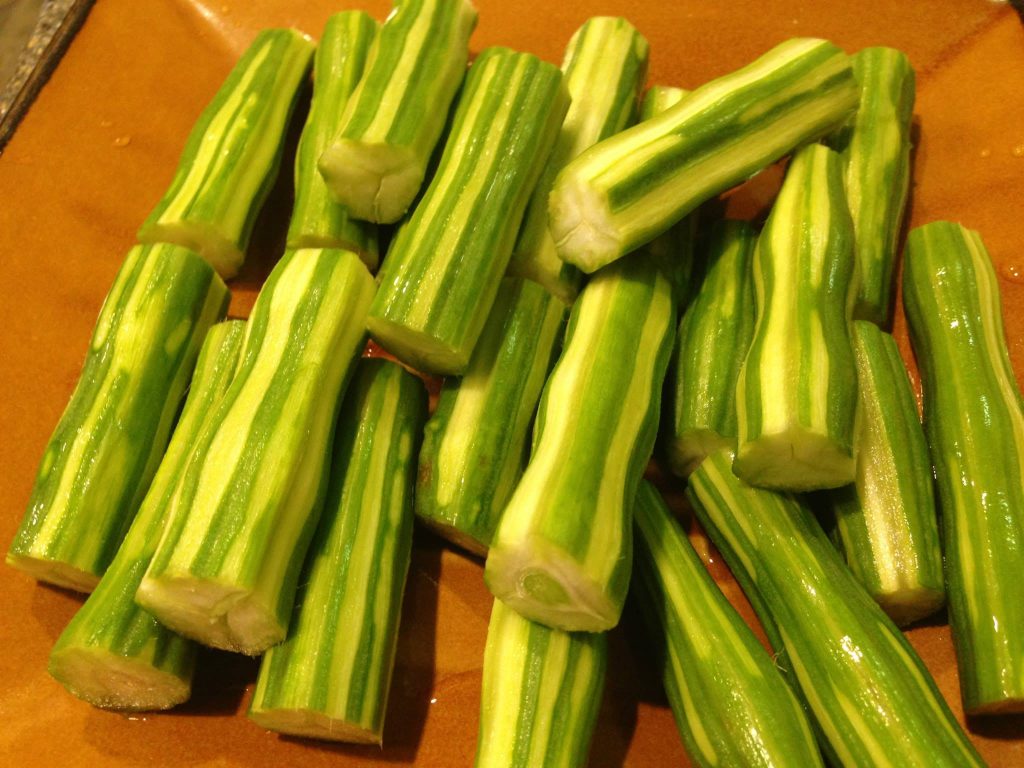 Then chop the moringa seed pods into 3-4 inch sections. We used 4 moringa seed pods. We think 1 seed pod per serving is pretty good.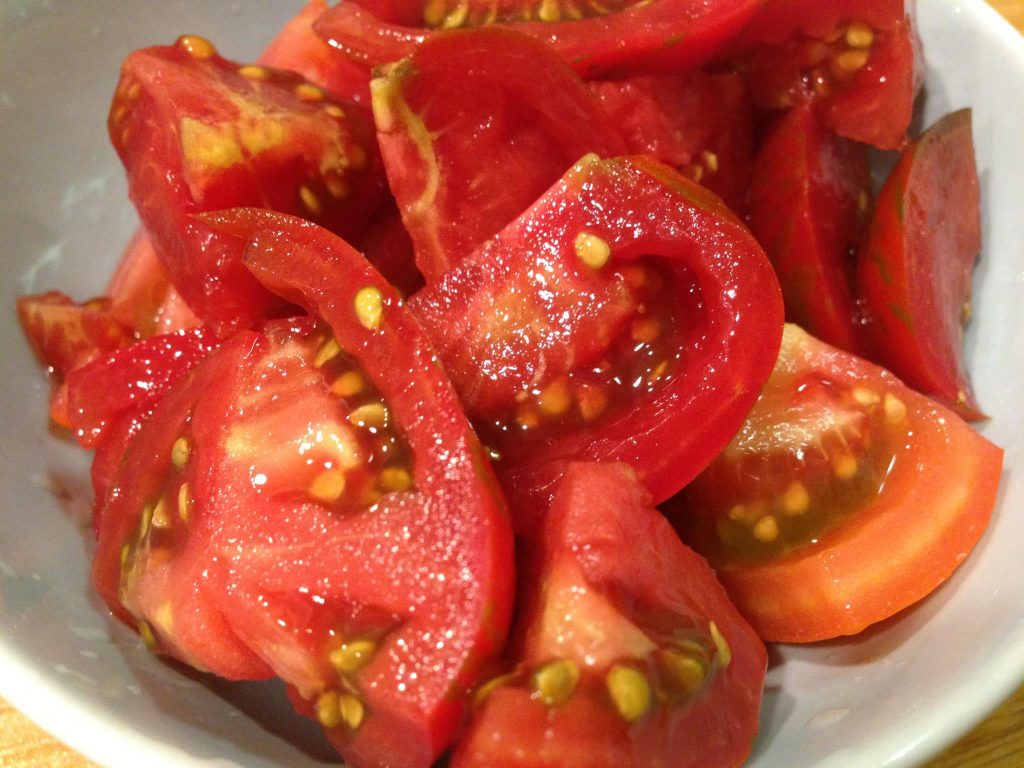 We are lucky to have these beautiful and outstanding Black and Brown Boar tomatoes to use. We also harvested a Husky Red tomato for this. Their intense flavor and acidity goes really well in this dish.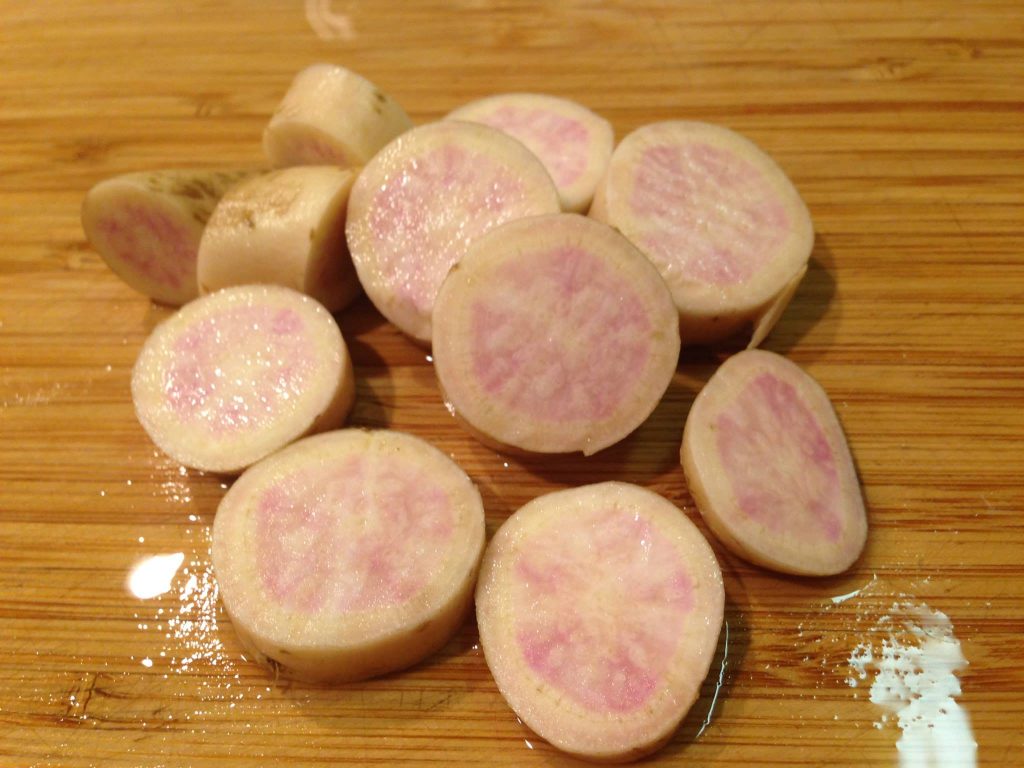 Chop the Okinawan/Hawaiian Purple sweet potato into bite size. You can cut them into larger chunks if you prefer less mushy texture.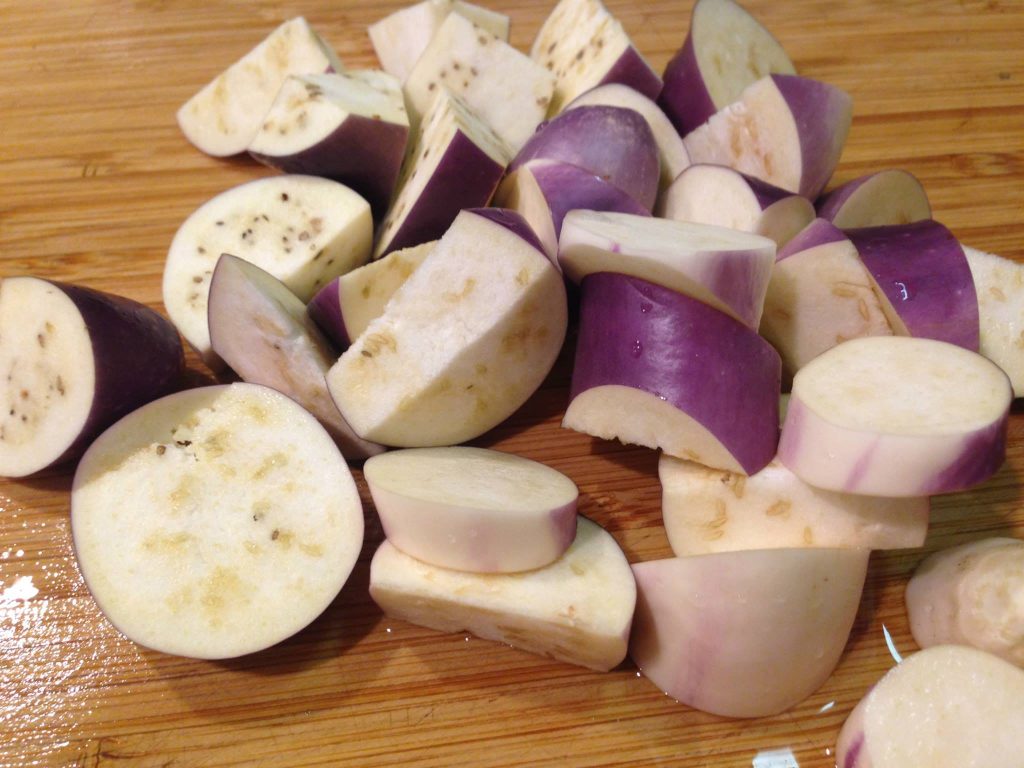 This is not in the main ingredient list, but we have an abundance of eggplants, so these beautiful Ping Tung eggplants are going in. Eggplant also is a great ingredient that soaks up the flavor of any sauce you cook it with.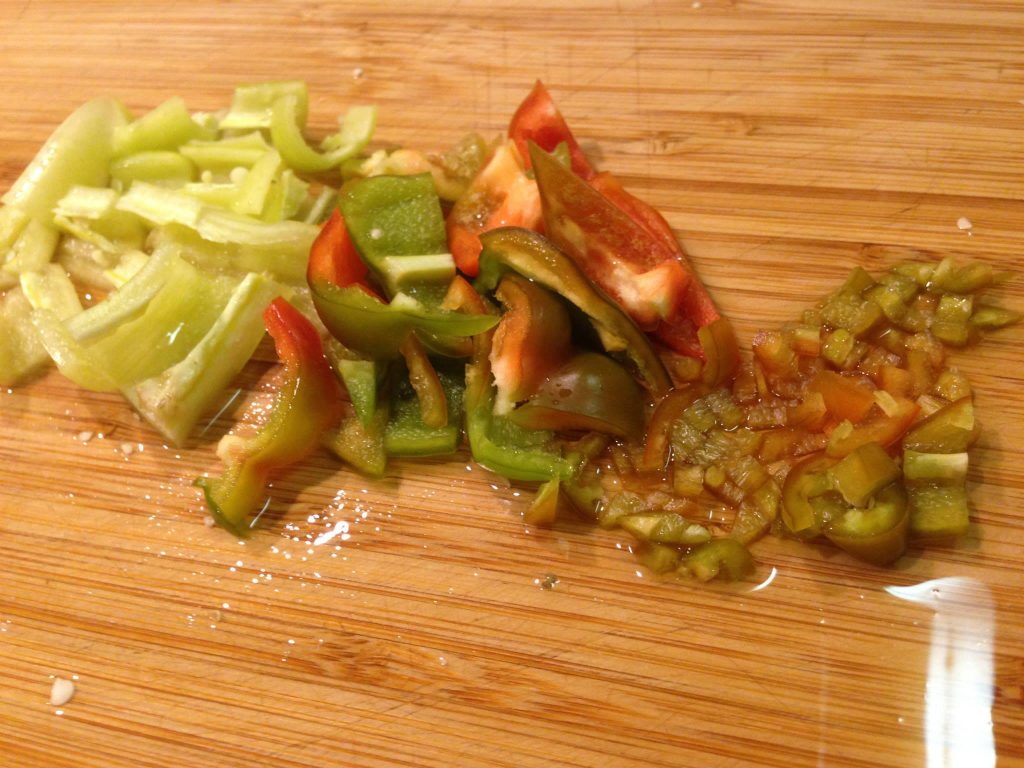 For peppers, we used freshly harvested Banana Supreme, California Wonder bell and a Jalapeño.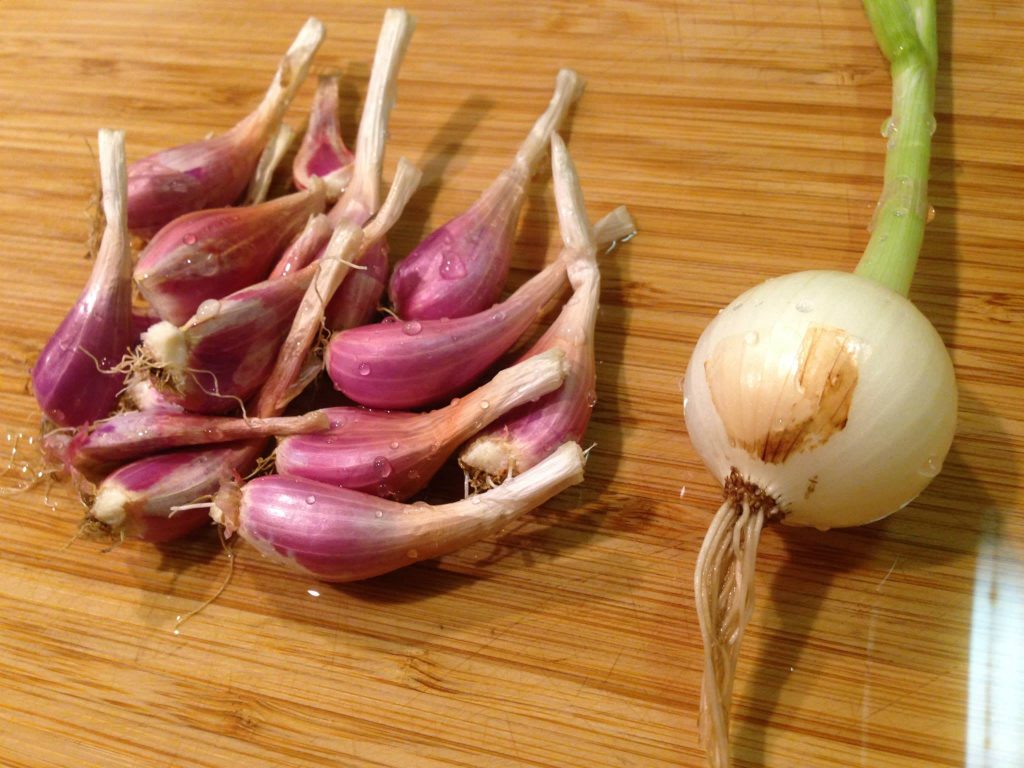 Here's our onions – I'itoi Inions and Candy onion!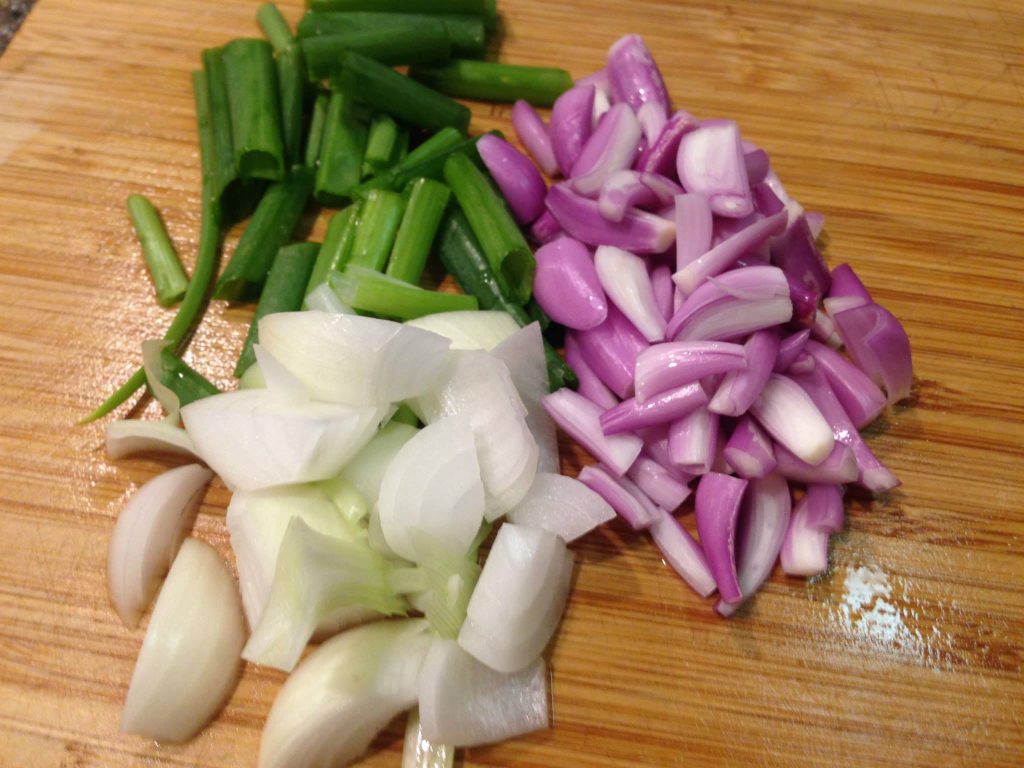 We like to use all of the plant whenever possible, so the Candy Onion greens are going in too! The green onions add a nice color to the dish.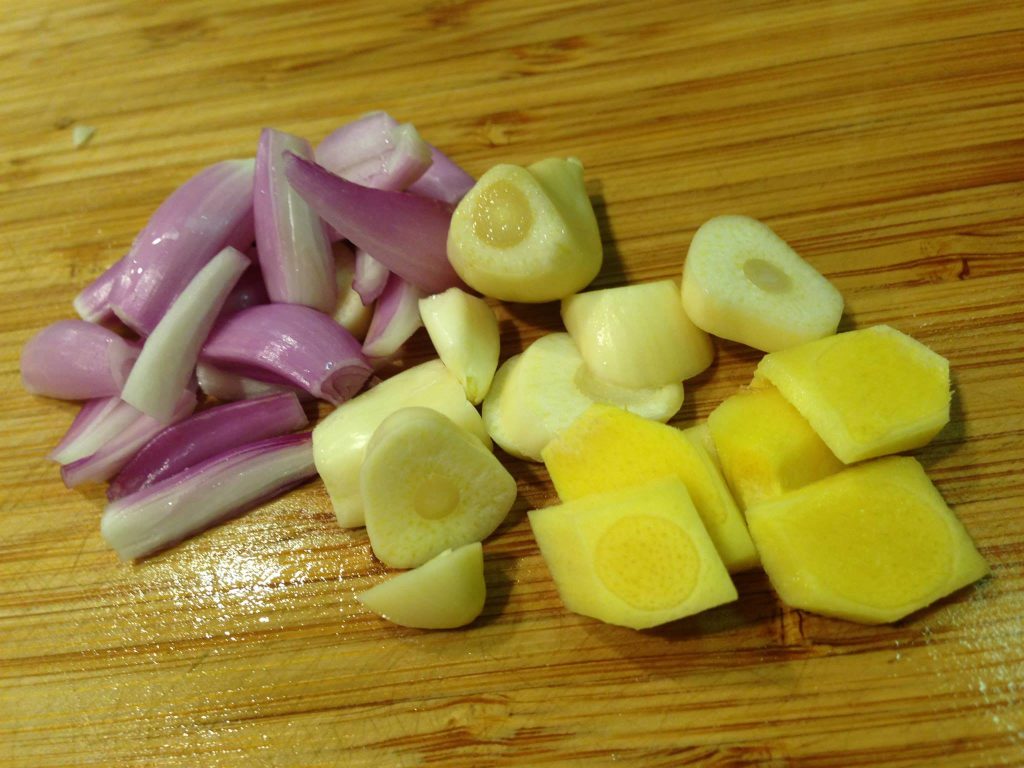 This is what we used to make the paste. Home grown I'itoi onions and garlic, plus the only store bought fresh ingredient, ginger. If you have a mortar and pestle, it is the perfect tool to grind this into a paste, I have not yet purchased one, so I roughly mashed these up with a wooden spoon.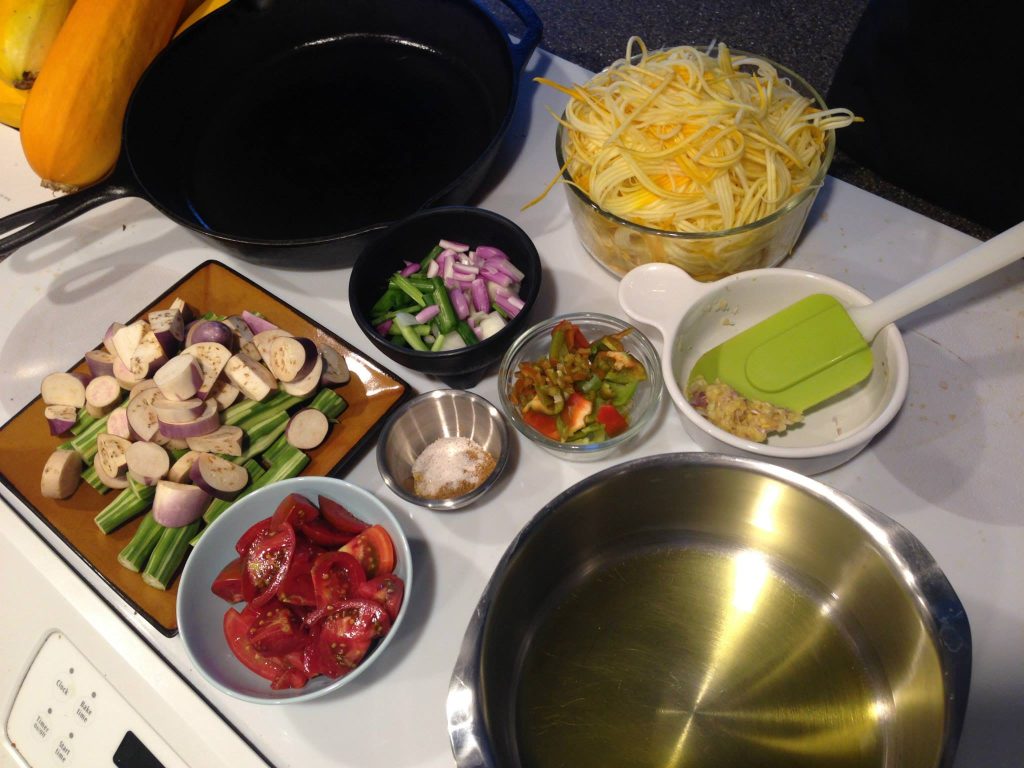 All fresh ingriends prepped. Now heat up some oil in your pan. The bowl of yellow strings at the top is the Gold Rush zucchini noodles. We really enjoy making these noodles, especially when the zucchini gets large and hard!
We did not have whole seeds like the recipe at hand, so I am cooking up the spice powder mix first. The heat brings out all the beautiful aroma from the spices.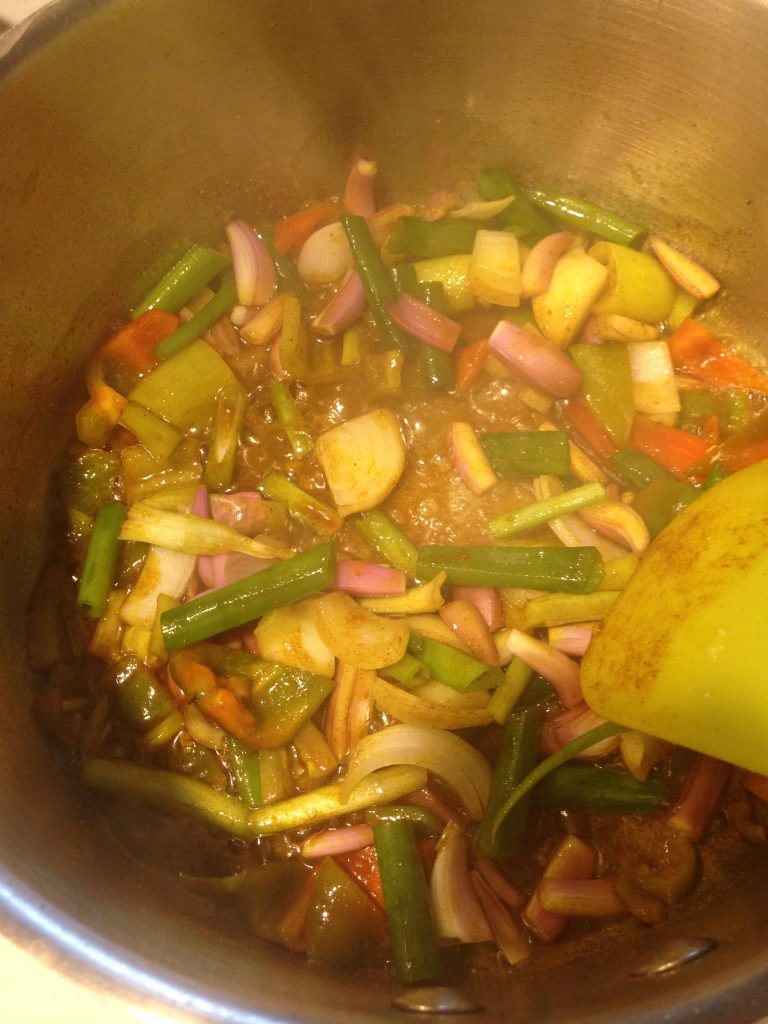 Now throw in the onions and peppers and cook till tender. Then carefully stir in the paste.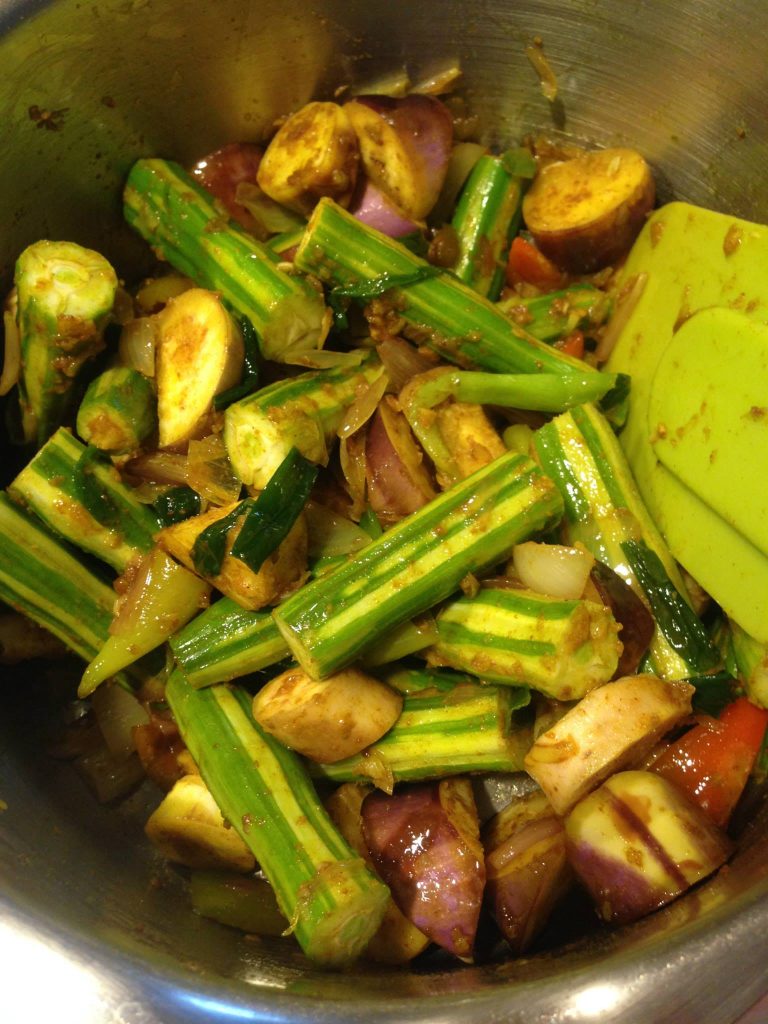 After a couple of minutes, put in the moringa seed pods and coat the pods well with the previous mixture.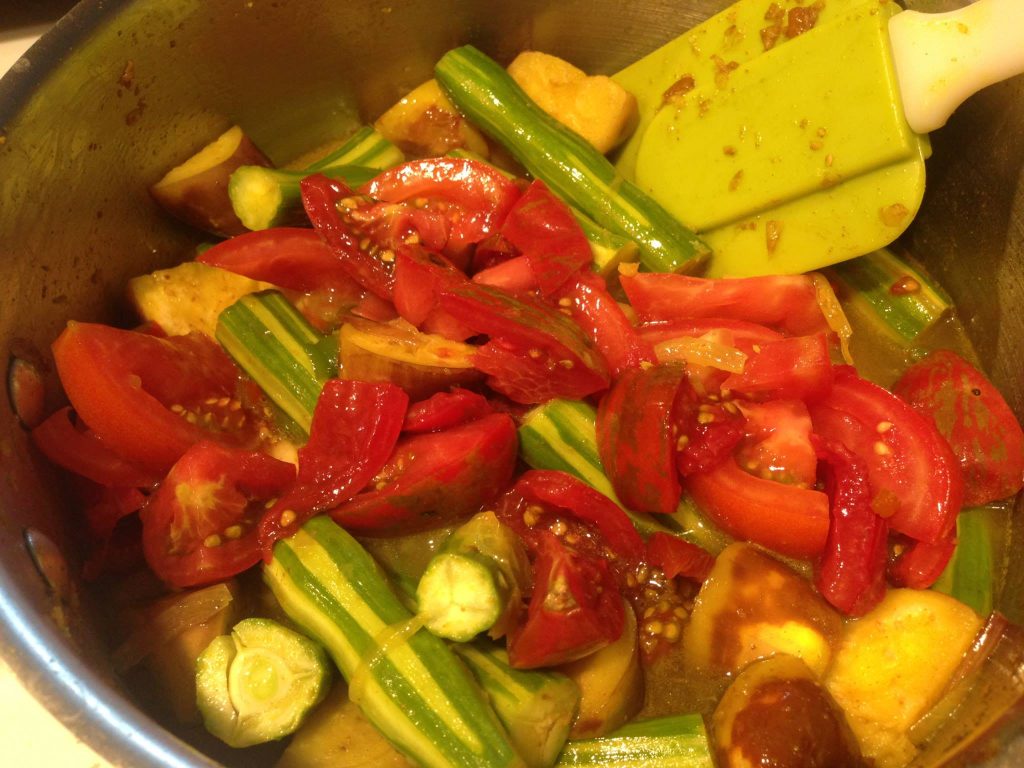 Now add in the tomatoes, again stir well. Cook for about 4-5 minutes.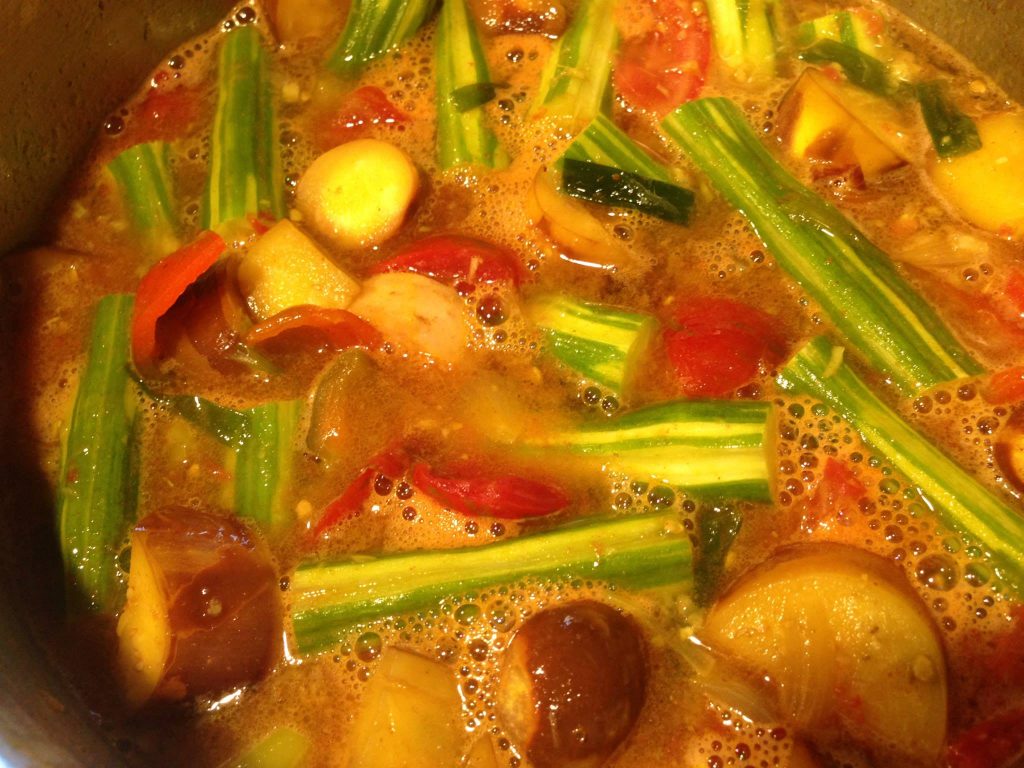 Pour water, add sugar or tamarind to cover the main ingredients.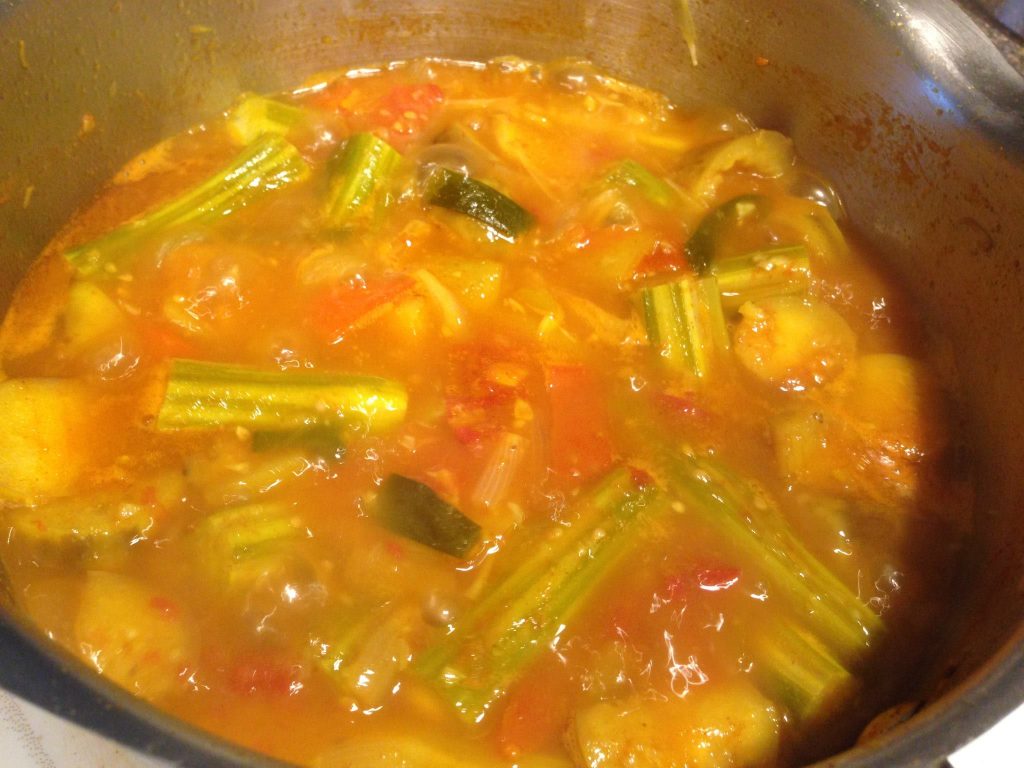 Let them boil in medium to low heat for about 15-25 minutes, depending on your preference for doneness.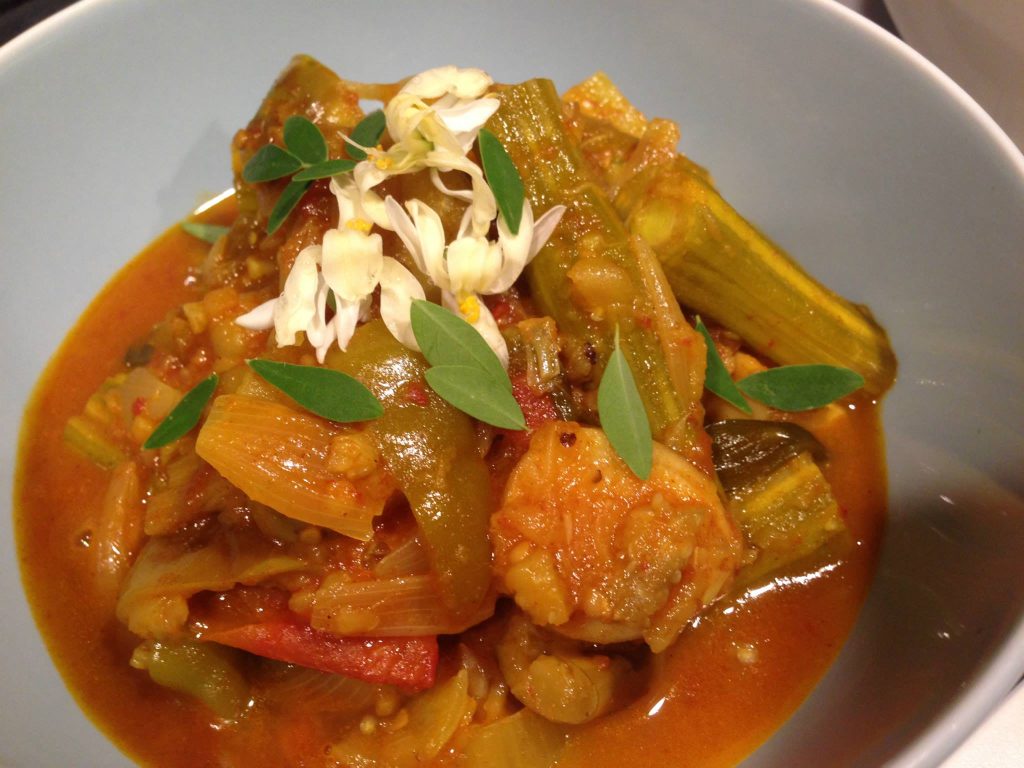 Garnish the drumstick curry with coriander or moringa leaves and serve with steamed rice. We love the look of moringa flowers so both the flowers and leaves go on there. We served this with Gold Rush Zucchini noodles.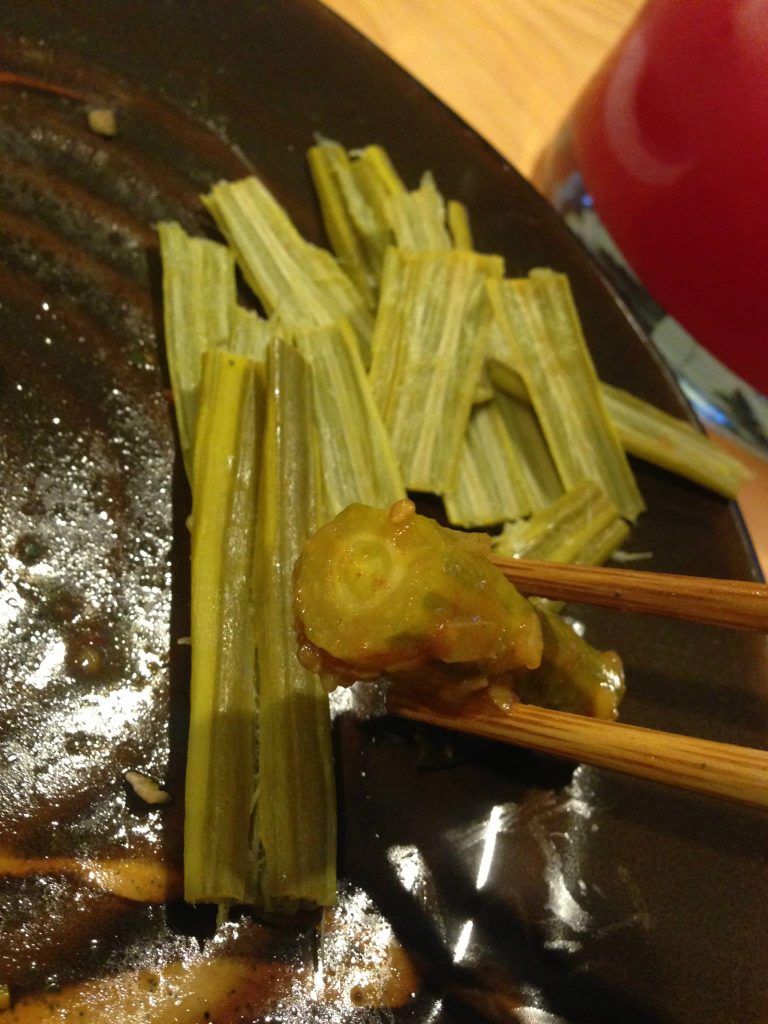 This is how the moringa seed pods look after cooking. We take it, and bite with our teeth and scrape the flesh and seeds out of the pod, similar to how you eat edamame. Then we open up the skin and scrape some more like how you would do with steamed artichoke.
The flesh, skin and seeds really soak up the flavor of the curry. Finger licking good!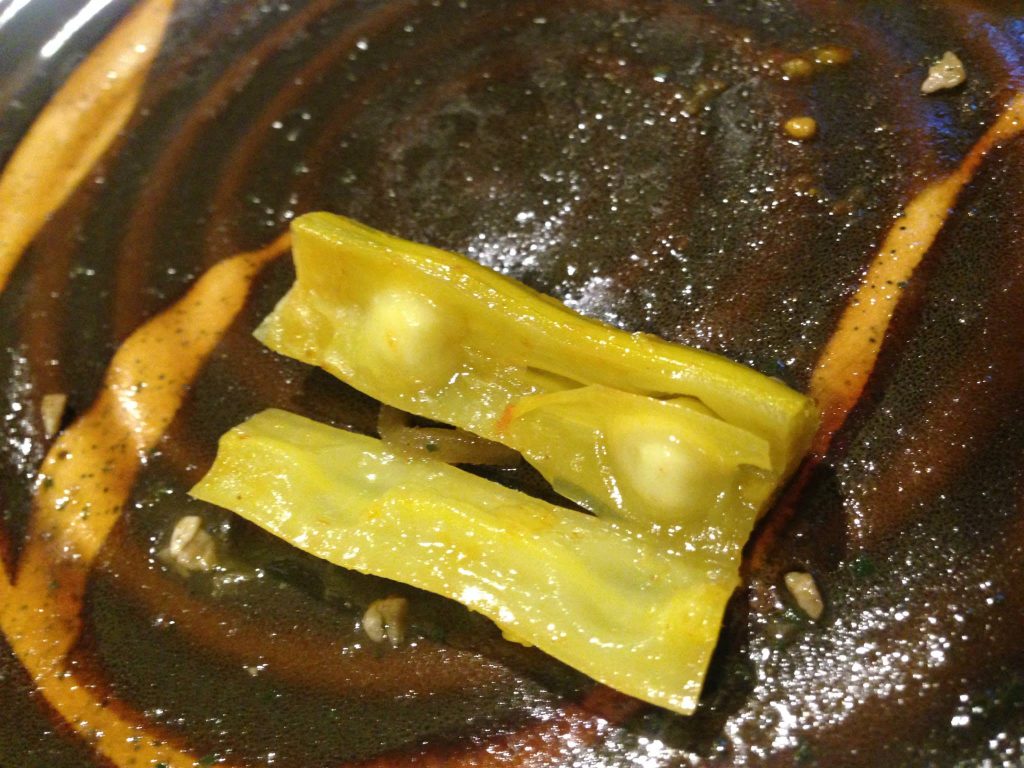 This is why you want fat moringa seed pods. The fatter it is, the more fleshy it is, and more things to suck and scrape off! YUMMY!
---
Moringa Tomato Curry
Makes: 4 servings
INGREDIENTS
Main ingredients:
4 medium drumsticks, Rinse, peel and chop the drumsticks into 3 to 4 inches pieces long 2 medium green chile, roughly chopped
2 medium tomatoes, roughly chopped
1 medium potato or sweet potato, roughly chopped
1 medium onion, roughly chopped
1 tsp cumin seeds or powder
1/4 tsp mustard seeds
1/4 tsp turmeric powder
1/4 tsp coriander powder
1/4 tsp red chili powder
2 sprigs curry leaves (if available)
1 cup water
2 tbsp oil
1/2 tsp sugar or tamarind
salt as required
few coriander or moringa leaves for garnish
Grind to a smooth paste:
1 shallot, roughly chopped
1/2 inch ginger, chopped
2 garlic, chopped

Notes / Directions:
Rinse, peel and chop the drumsticks into 3 to 4 inches pieces long.
Make a smooth paste without adding any water from the shallot, ginger and garlic.
Heat oil in a pan. Crackle the mustard seeds first, then add cumin seeds, green chile, onion, curry leaves, salt and cook till onion is tender. Then carefully add the ground paste.
Stir well and then add the turmeric, red chile, and coriander powder. Add the drumsticks, tomatoes and potato, and stir so that the sauce coats them well, 4 to 5 minutes.
Pour water, add sugar or tamarind and cover the pan and let the drumsticks cook at medium heat till they become tender and well cooked they should not break and become mushy, 15- 25 minutes.
Garnish the drumstick curry with coriander or moringa leaves and serve with steamed rice.